Are you attending Cisco Live US virtually or in person? Come see us at Booth #3163 to get all of your DNS, DHCP, and IPAM questions answered directly by the experts!
What's happening at Cisco Live this year?
While we don't know exactly what the Cisco team will be showcasing this year, judging by the Innovation Talks listed on the schedule it's probably fair to say that customer experience is at the top of everyone's agenda. It looks like mutlicloud/hybrid cloud and SASE architectures are still stars of the show, but because of the complexities built-in to these architectures, customer experience must be built-in from the beginning. This is all good news!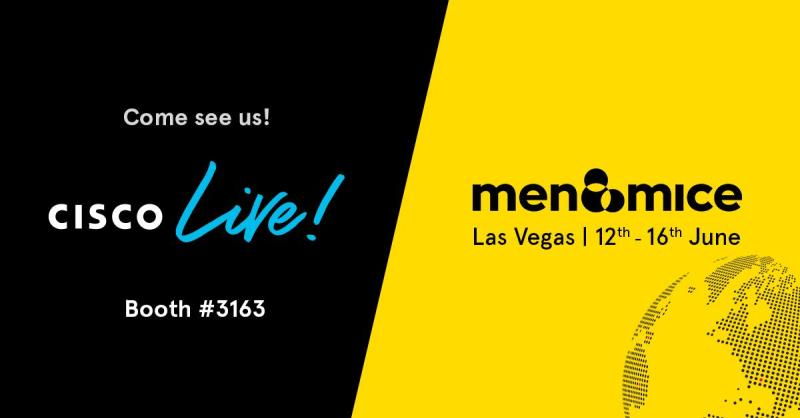 Why is Customer Experience a Focus Now?
As B2B (Business-to-Business) tech companies start feeling the pressure from customers who've gotten used to a B2C (Business-to-Consumer) tech experience, solutions are starting to go beyond being functional to actually being helpful and performant.
Think about apps we use in our every day lives, like Netflix and other streaming apps. We can literally go from watching the latest episode of a new show on our phone at the airport and then turn that same episode on in the same place we left it when we get home on our TVs. While we watch that on TV, we can order food from a delivery service via an app on our phones and we barely had to lift a finger. Those apps were all updated to the latest version, likely without us even knowing it. They were quality tested and improved for experience maybe daily as part of a CICD (Continuous Improvement/Integration - Continuous Delivery) lifecycle.
The B2B tech world is just starting to catch up with the B2C tech world and part of this is because the solutions we use are just more complicated. Often they have their histories based in hardware, or at least hardware-based methodologies. The methodologies that tell you that solutions need to be dedicated, proprietary, and when it comes time to upgrade the solution it's going to have to be an act of rip-and-replace.
As software continues to evolve, though, this is no longer the case. We can make improvements more often than once a year. Vendors can listen more intently to customers and make incremental improvements to solutions, so that the solution can bend slowly towards being the most helpful to customers without breaking.
All of this comes together to create B2B technology solutions that make multicloud and SASE architectures possible. Again, it's not about customers going from step 1 of having an on-prem site with on-prem solutions, it's about easing into an architecture that suits your employees and gives you the solutions you need to give your customers and coworkers the best possible experience.
What Do We Mean by "Customer Experience?"
By definition B2B is inherently different than B2C, in that a vendor's customers are actually businesses with customers themselves, and so the term "Customer Experience" gets a little confusing. So what do we mean when we say "Customer Experience" at Men&Mice. In short, for us it's about giving everyone a better experience. How do we do focus on that?
It's essentially a cycle, or perhaps a snowball is a better way to look at it. We help your DDI teams by providing what's essentially a standardized, simple-to-use GUI and API for your entire DDI environment. Whether your workloads reside on-premises or in the cloud, your team can use the same solution for visibility, observability, and network management. The snowball builds because now your broader IT teams are able to get better services through centralized role-based access control and automation through self-service portals. They can bring services to market faster, clean up sunsetting services more easily, and update applications more continuously.
As this snowball continues to build, in a good way, both your internal services and external services will be able to offer improvements in both UI and performance. In the end, it's all about creating the best experiences for your customers and building on current revenue streams while also being able to create new ones. DNS, DHCP, and IPAM are at the heart of that whether we're solving small issues like IP conflicts causing individual outages or larger issues of DNS provider causing major service outages for your business.
Find Out More
If you want to find out more about how we can help you improve your customer experience, stop by booth #3163 any time during Cisco Live. If you're not going to be there, we'll be updating everyone on our socials all week long. Of course, you can always sign up for a personalized demo as well.