Customer care is a complex undertaking. Especially in technology, and in the case of software like Micetro in particular.
Micetro often represents a radical shift for our customers. Many of them are used to doing IPAM in spreadsheets, managing DNS platforms separately, handling DHCP directly on the servers... even keeping all the cross-functional information in their heads. Shepherding customers through this change presents challenges.
As the world evolves, so must networks since they're the lifeblood of any modern business; and if networks evolve, network management needs to, as well. Onboarding teams to a new solution is pressure on both the company and the support ecosystem of the vendor.
Still, just as Micetro makes it ever more manageable for our customers to handle whatever they need to in regards to DNS, DHCP, and IPAM, we have to evolve our customer care processes to be more agile, more scalable, and more efficient.
Self-service customer service
Knowledge has long been an open-sourced resource in technology, where expert communities form around certain niches, with members helping each other freely. The combination of these grassroots methods and search engines (such as Google's mission "to organize the world's information and make it universally accessible and useful") resulted in "self-service customer service" that is reliable and highly scalable.
One of the best ways to improve our scalability in customer care is to provide such self-service contact points, like our product documentation. Our customers are experts in their fields, be it DNS, DHCP, IPAM, or DDI overall – an easy-to-use, self-service documentation is likely all they need to quickly get underway with taking full advantage of Micetro. Therefore one of the things we're most excited about is rolling out a more user-friendly documentation experience.
Introducing: the new Micetro documentation
Micetro's API makes it easy for our customers to automate the right tasks and focus human attention on those that require it. We've set out to do something similar internally as well, with our revamped product documentation.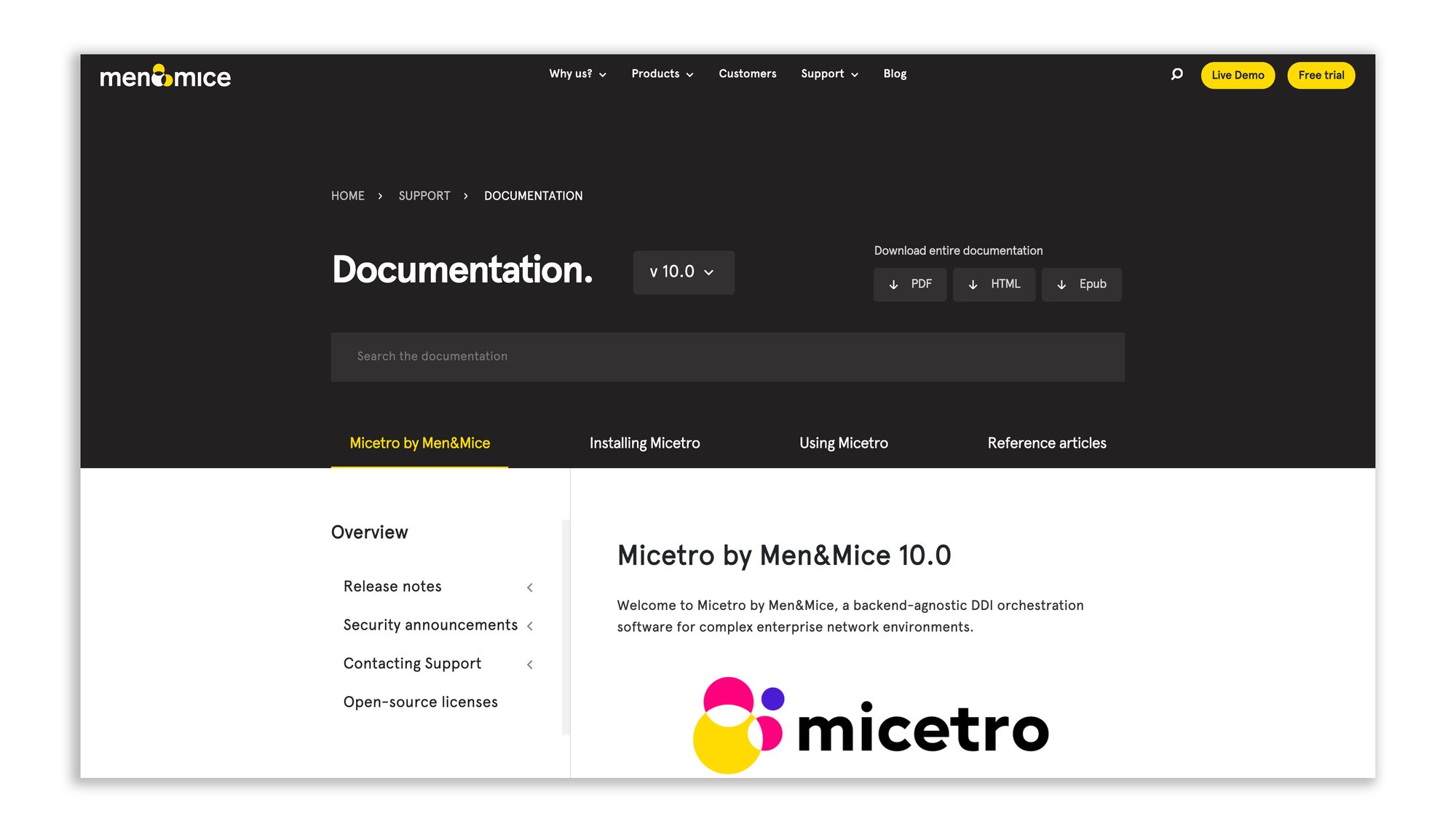 In a nutshell: we've moved our documentation from a standalone CMS-based backend to one backed by ReadTheDocs. This platform pulls the content from regular, plaintext files written with a standard markup language in a Github repository.
This new backend provides several advantages for both our customers and our teams.
For customers, we can present this new documentation in line with the content they came to expect from us through our website and blog, as well as Micetro itself. It is augmented with a robust search index and is pre-built to be lightning-fast.
For our teams, this new configuration reduces the complexity of getting information from the developers to customers. Micetro is a complex software that is updated regularly with new features, improvements, and bug fixes. The documentation is now a streamlined process using tools that they're already familiar with (as opposed to a structurally disconnected toolset requiring a separate learning curve).
As a result, we in the Customer Care team can bring the internal knowledge, whether information or product refinement, to you faster.
The new documentation is also easier to maintain for new releases, taking advantage of Github's branching features. And you can export the entire documentation in pdf, epub, or HTML formats.
First step on an endless road
Supporting technology moves in step with the evolution of technology.
We're proud of our new documentation but also recognize it's only the first step. But it's an important one, as we now have a flexible, standardized platform for documentation that can be re-used in many places. Integrating it into our website was a proof-of-concept for precisely that. In the future, we'll be able to both extend the content (such as including self-service product training and a larger-scope knowledge base) and the integration (such as integrating the documentation into Micetro itself).
We invite you to browse the new documentation and let it guide you on your journey with Micetro. (Have you tried it yet?) And as always, should you have questions that the documentation doesn't answer, we're always at your service.