The VMworld contingent of the Men&Mice team has arrived in San Francisco. We've met "Karl", and taken the Moscone Center by storm, where, together with tens of thousands of attendees and hundreds of exhibitors from over 5,000 companies (and 86 countries!), our team is ready to see, show, and tell what's in store for the future of networks.
So what's in store you might ask? From our vantage point in San Fran, it's abundantly clear: clouds. Loads of them.
Clouds. Clouds everywhere.
We expected the City of Fog (that has a name; it's Karl) to be all about clouds, and it didn't disappoint.
Everybody's doing cloud. Or, rather, everybody's doing hybrid and multicloud. We've expected as much, and our experience here at VMworld has confirmed it.
The interesting part is talking to people who haven't yet started using cloud, or those that have already started entertaining the possibility of a multicloud strategy. As exhibitors strut their clouds and visitors contemplate the best options for their businesses, we've offered a gentle reminder: cloud adoption is not an either-or proposition - every future-ready network strategy should be having a serious look at it.
And, not to blow our own horn too loudly, but it's more apparent than ever - and more important than ever - to consider how an API-first network solution can help your network bridge the gaps between  different platforms, in a variety of clouds that offer a diverse selection of functionality and benefits.
On this note, we are pretty pleased to announce that Men&Mice was chosen as a finalist in TechTarget's 'Best of VMworld' networking category! More on that in our next post.
Stay tuned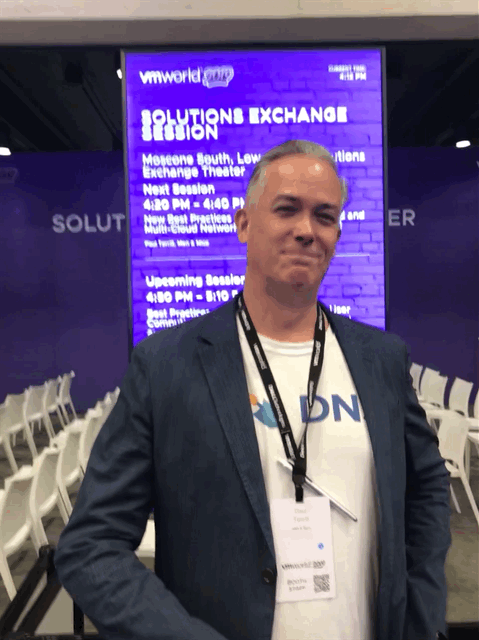 Our post-VMworld report is coming in a few days - full of  details on what's been happening at the event, what and how we think the future will be shaped from the things we've learned while meeting people at our booth, or attending and presenting talks (or being chosen as finalists for awards!).
As an additional treat, we'll be posting a video from the talk our North American Director of Sales Operations, Paul Terrill, held on Monday, where he went into detail on what's the what in implementing best practices for future-ready network management.
In the meantime, spend a moment to be wonderstruck by our handsome booth babes. :-)