June 6th, 2012 (or "6/6") saw the World IPv6 Launch Day. Today we celebrate the 7th anniversary.
For those in need of a quick cheat sheet, here's ours.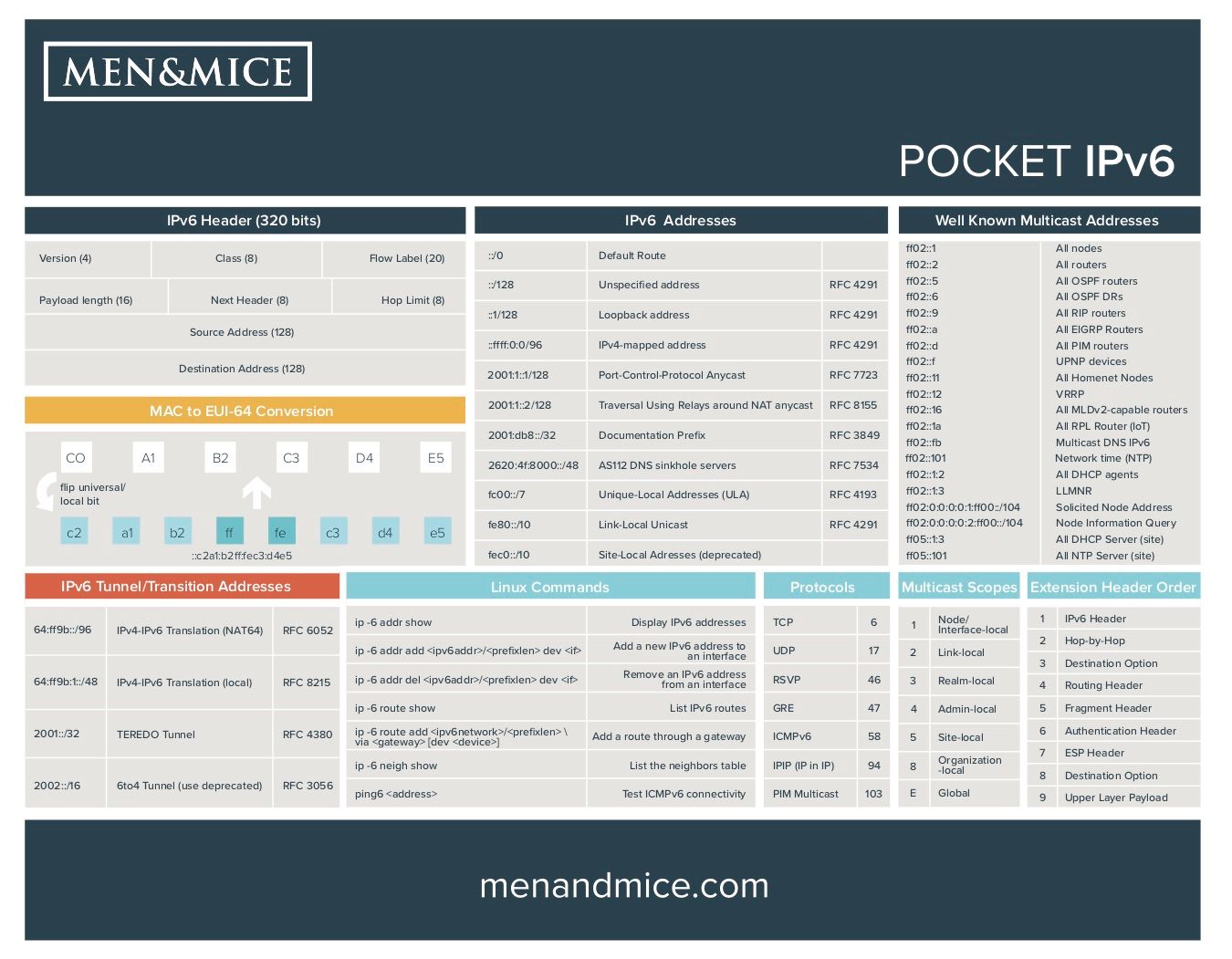 (Mind you, this is not ONLY a cheat sheet, but also doubles up as a lens cleaning cloth. Come by our booth at  Cisco Live in San Diego to pick one up.)
Beyond that quick reference, what's all the fuss about this old-new networking technology? What has changed since it's been around (from the 1990s)? What hasn't? And where do (or should) we go from where we are now?
To IPv6 or not to IPv6?
That is the question. For what it's worth we, and literally everybody we spoke to at RIPE 78, are for IPv6.
That said, there is legitimate criticism against it. More often than not, however, it tends to be rooted in shortcomings of implementation, misunderstandings in adoption strategies, or just general reluctance toward the work involved in the switch.
Large tech companies have adopted IPv6 whole-heartedly. ISPs, cloud providers, and data centers have been offering IPv6 for a while. Microsoft has been at work getting rid of IPv4 addresses in their offices for years. Google even keeps a public chart of IPv6 adoption amongst its users: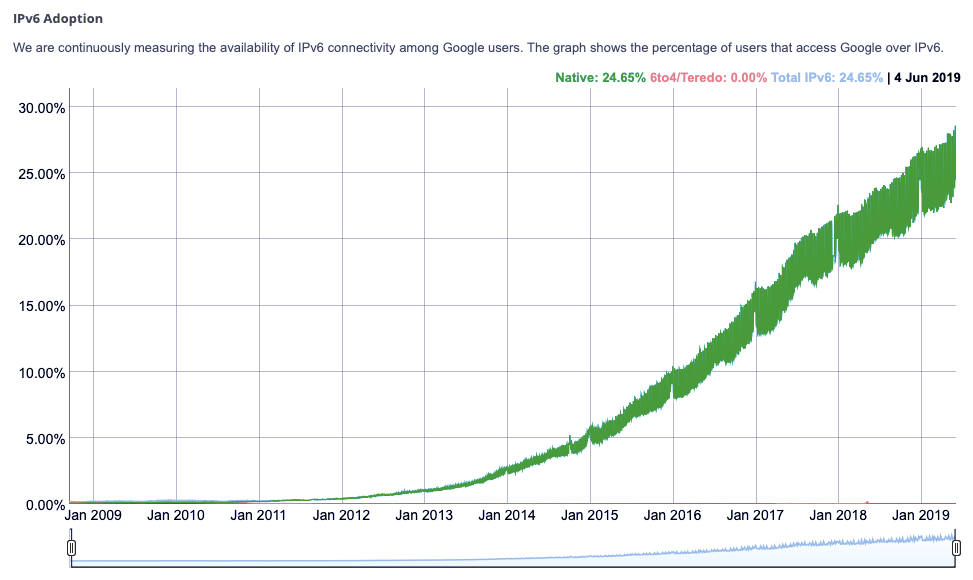 Bottom line is: adoption is on the up, but it's still spotty at best. And it is true: IPv6 isn't perfect. But then again IPv4 isn't, either. It will not get any better, though, if we don't dedicate effort to perfecting it through practice.Fun fact: IPv6 addresses are free. IPv4 addresses go for $20+ a piece and that price keeps rising.
It's evident that, various inventions and initiatives notwithstanding, we'll likely soon be out of IPv4 addresses. Never before have there been so many connected devices, from smartphones to cars, from smart thermostats to smart toasters. IPv6 is an inevitability.
What can we do?
Introducing 'resolv.pod': a DNS podcast
We can, and most definitely should, discuss and evaluate our options regarding anything and everything affecting the future of the networks we depend on. Attend conferences, read papers, draft strategies.
To that end, we're happy to announce that we are launching a podcast aimed at sharing with you the mindshare we have access to.
Of course, as is clear from the name of our podcast, the focus won't be on IPv6 exclusively, but rather anything and everything related to DNS, DHCP, and IPAM. Facilitating discussions about IPv6, amongst other things, and giving listeners fuller context from experts in the field, are the DNAME of the game (OK, name - just couldn't resist).
As luck would have it, we were fortunate enough to grab a conversation with Geoff Huston, Chief Scientist at APNIC (Asia Pacific Network Information Centre)  in the lovely Reykjavik sunshine at RIPE78.
So to celebrate World IPv6 Day, why don't you sit back and listen to our very first episode featuring Geoff talking networking highs and lows with Men&Mice's Carsten Strotmann? It's sure to entertain - and inform - in equal measure. Happy  World IPv6 Day!
Find resolv.pod on your favorite podcast platform:
More interviews and discussions coming up in the next weeks! Let us know what you'd like to learn more about via the podcast email, our social media channels, or as a comment below.