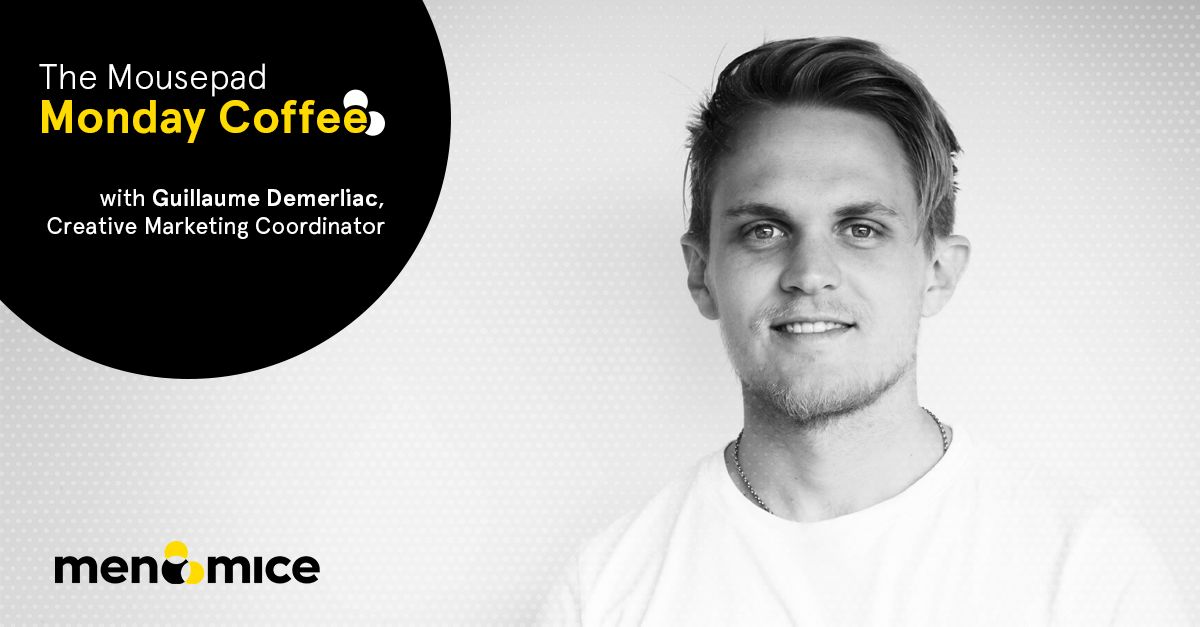 What do you do at Men&Mice and how long have you been working here?
My job title reads "Creative Marketing Coordinator", but what does that mean exactly?
Well, the role I'm in is the first of its kind at Men&Mice part of the challenge and excitement is that I am forging this new role based on the various creative needs that we have within the marketing team and company in general. Men&Mice went through a big and beautiful rebranding phase recently and so, in the spirit of keeping a clear brand image, my job is to help the company always look good and make sure that we are visually true to our visual identity and values.
If you see new graphics, new photos and new videos, I am likely the face behind those.  

My marketing and design background means that I am able to help the company forward with its design and marketing efforts and that is a position I am very proud to be in.
Describe Men&Mice in three words.
Fun, dependable & inspiring. I strongly believe that what makes a company great, are its people. For that very reason, Men&Mice is truly one of the best. We are all here to enjoy what we do, we all have a strong and dependable bond between us, and more importantly the fact that we are all able to work so well together as a team is extremely inspiring.
What is the most interesting part of what you do?
Creative content is an incredibly diverse concept and to me, the diversity of projects that I get to be involved with is what I love the most. It makes it so that every day is different, and more importantly every day is creative.  
I feel incredibly lucky, not only to be a part of such an amazing team of people, but also to contribute to our goals and growth through the very thing that defines me. Creativity.
What inspires you?
Creativity is a given. I live and breathe it. Sometimes I eat it for breakfast.
But other than that, the most inspiring aspect of my work at Men&Mice is the people. I work with the best group of people and even though I haven't been here that long, I feel like I have already created some lifelong friendships. Everyone I work with is so talented in their fields and it is beautiful to see amazing people come together as a team to achieve what we are achieving.
Why do you do what you do?
I do what I do because I get so much joy and a great sense of accomplishment when I can use my set of skills to help the company grow. The fact that I can come to work in the morning and use my design, photography and other creative skills is truly a big pride of mine. I am able to do what I love and to see it benefit our growth.  
When I was offered my role here at Men&Mice, I had already met some of the team members that I would be working with, and the warm welcome that I received played such an important part in my decision to join. To me, communication, teamwork and social interaction at work is key to a healthy work ethic, and Men&Mice seem to be very much aligned with this value.
What does the term 'sustainable networking' mean to you?
Sustainable is a term that became familiar to me from day one of my work here at Men&Mice. I spent the first few days really getting a grasp of the technological strides that Men&Mice are making in the DDI market and I very soon realized the importance of 'sustainable networking' in our ever changing and evolving world.  
As technology continues to evolve at an ever-increasing rate, the management tools needed for them are evolving at the same pace. Sustainable networking is exactly this ability to adapt to this constant evolution and making sure that we can be always be one step ahead of the market needs. Future-proof.
Tell us an interesting fact about you.  
I am a very keen photographer, more specifically travel and nature photography. I am a passionate traveler and no-matter where I go, you know I will have my beautiful camera handy for that perfect shot. Find me on instagram, you may be surprised at some of the places I have the pleasure to explore!
Learn more about Micetro: https://menandmice.com/products/micetro