From living in a houseboat on the Seine while earning her MBA to now trekking to live volcanoes in Iceland, Jessica Poteet brings business expertise, a can-do attitude and a global outlook to Men&Mice's operations. She talks to The Mousepad about what it takes to help people do their jobs most effectively and the one souvenir she brings home from her travels.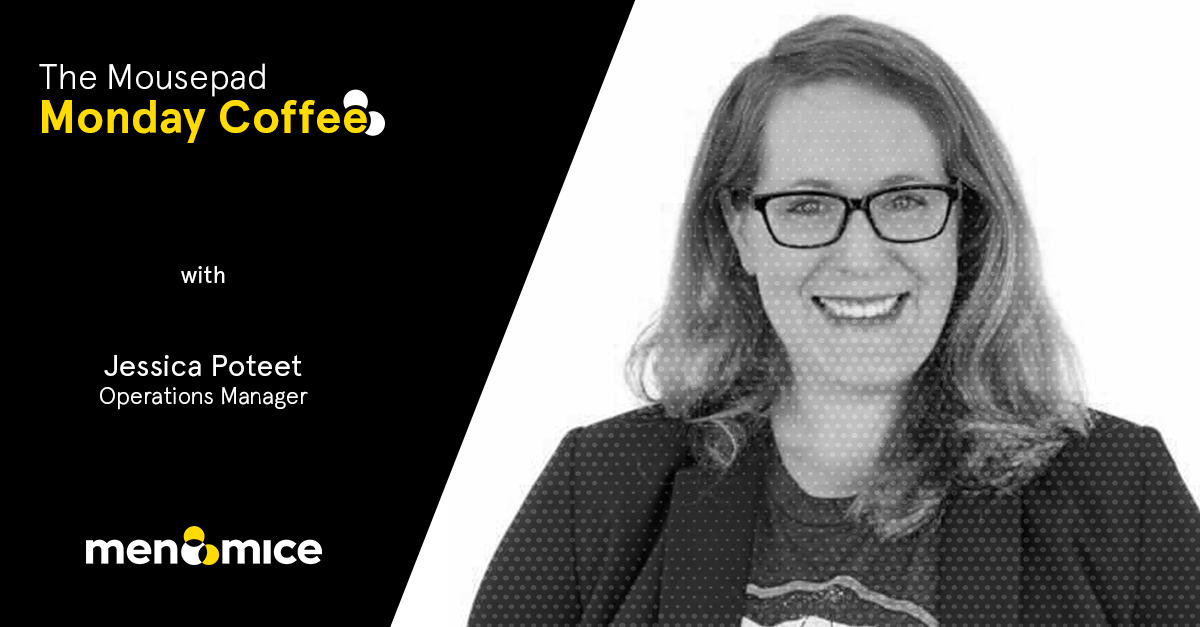 What do you do at Men&Mice and how long have you been working here?
I've been working here for a little over two years. It's been quite a storied journey, actually. I've seen so many facets of this company. First I was hired into our partner team, as a channel manager, and then I moved into global sales, liaising with prospective clients and assisting in product demos.
But for the past seven months, I've been working as an Operations Manager on our newly formed Operations team, helping to create, shape, and document processes and solutions for the whole organization. For a company that's growing as quickly as we are, we need a team that's fully dedicated to supporting everyone internally, to make sure our coworkers can focus on doing their roles most effectively. I love talking with people and learning about them, but I also love helping people and being solutions-oriented, and this role combines those two perfectly.  
Additionally, I have a background in marketing, so I also work part-time to write content and copy edit for our marketing team here in the HQ office. You can check out several of my blogs, if you'd like!
Describe Men&Mice in three words.
Tenacious yet dynamic, but always sui generis.
What is the most interesting part of what you do?
There is so much organizational psychology and company sociology that go into working for a team that is devoted to rolling-out new workflows and ideas into an enterprise. I enjoy identifying problems and then working on ways to solve those problems; but it's fascinating to figure out how to do so in a way that doesn't disrupt already established norms of a long-lived conglomerate of people. I love finding that perfect balance between keeping the best parts of a system driving smoothly while working to even out the speed bumps that every growing organization hits. They say you can't make everyone happy, but wow, I certainly try (much to the chagrin of my therapist).
We work for a company that develops and sells some really niche, intricate technology. But just because DNS, DHCP, and IP address management are some pretty tricky concepts, doesn't mean signing up for insurance or lunch should be too. That's where me and my team come in. I also help plan the company's parties, so I definitely drew the long straw when getting this role!
What does the term 'sustainable networking' mean to you?
It means meeting your current network needs without compromising the needs of future iterations of your network. Your current team's goals may be to save money, but the future team would really like it if you deployed a software that could grow with the enterprise holistically. Similarly, if you purchase a DDI solution that makes you buy new hardware every few years only because of a contract, is that really meeting the needs of both your current and future network? If you manage your network sustainably, you can easily meet both current and future demands, without any sacrifices.
Do you have a hobby or an interesting fact about you?
I have a Masters degree in Geology, specifically carbonate stratigraphy. Stratigraphy is like using chemistry and physics to study earth's past climates, and then try to understand how ancient geographical areas affected by those climates are linked in space and time. I worked as a geoscientist for over a decade, traveling the world and studying ancient rock-record analogs to modern-day beach systems like The Bahamas, Abu Dhabi, and the Great Barrier Reef. And speaking of traveling, I hit 50 countries that I had traveled to early last year, and I'm eager to expand that number soon. And my souvenir from everywhere I go? A rock, of course.