Meet Magnus Gunnarsson, a developer on the backend development team here at Men&Mice where he has been working for more than 3 years.
This extremely talented mind found his passion for development and problem-solving through his studies in Bsc Researched-Based Computer Science from Reykjavik University.

We were pleased to meet up with Magnus for a warm cup of Monday Coffee.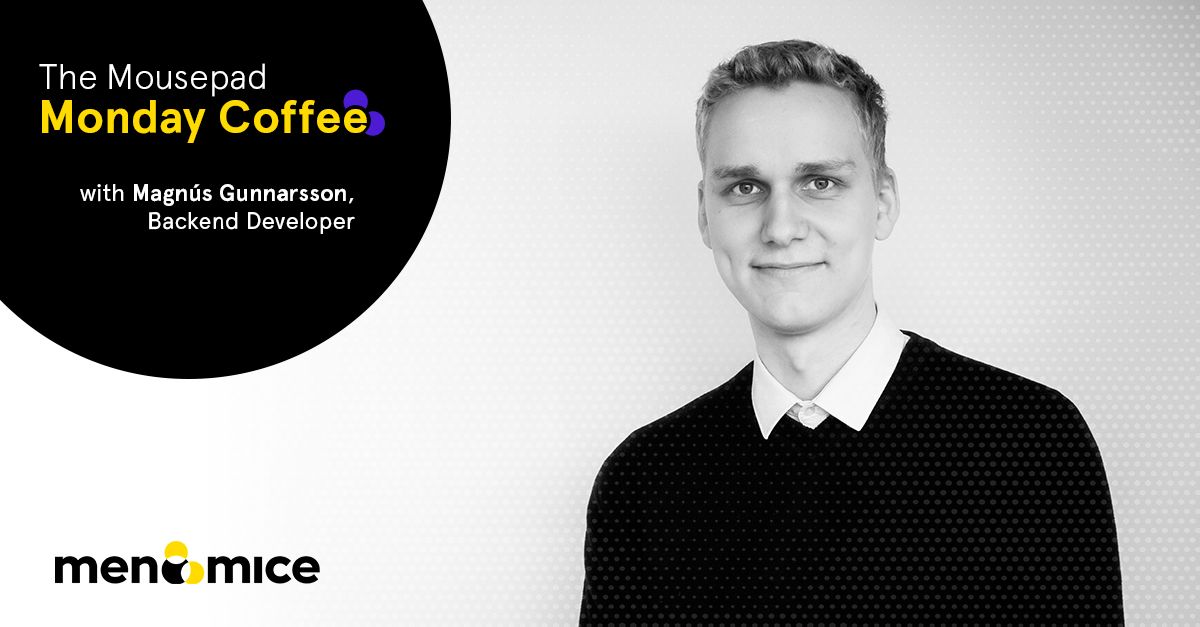 What do you do at Men&Mice and how long have you been working here?
I have been working at Men&Mice as a backend developer for a bit more than 3 years now. I work on the improvements and fixes of the Micetro backend as well as on the implementation of new features that go into the product.
Describe Men&Mice in three words.
Fun – Professional – Reliable

The team here a Men&Mice is made of extremely fun and professional people. It makes it interesting to solve problems and work as a team to make the customer's life easier. The attitude in the company is very professional and I feel that we can all rely on each other. Because of all this, we are able to also build a very reliable product.

What is the most interesting part of what you do?
Breaking complex problems down and making them easier for the end user. There is something very satisfying about diving into complex problems and thinking of possible solutions. There is a great sense of achievement when we can come up with solutions that make someone's day job easier.
I also very much enjoy figuring out how to integrate new features into our solution, making sure that when we add future functionality, it fits in nicely.
What inspires you?
What inspires me the most are all the incredibly smart and talented people that I work with every day as well as the drive that we share to continuously keep improving. We all thrive on diving into interesting and challenging problems that need solving. To me this is incredibly inspiring.
Why do you do what you do?
What fascinates me the most in my job must be the problem-solving aspect to it. I have always been interested in technology and how it works in detail when the curtain is pulled back.
When I was studying Research-based Computer Science at Reykjavik university I found my fascination with computer science and software development growing each semester.
What does the term 'sustainable networking' mean to you?
Sustainable Networking, to me, is being able to automate workflows so that network management can grow in a sustainable way. This way, people can focus on the things that matters instead of doing repetitive tasks.
Sustainable networking is also about being able to use existing infrastructure and hardware/cloud solutions from multiple different vendors.
Tell us an interesting fact about you.
Interestingly, I had very varied jobs before working at Men&Mice: I first worked in a fish processing factory, then I worked in an ice-cream store in Rehoboth Beach in the United States, I also worked as a furnace operator in a silicone smelter plant and finally as a teaching assistant at the University where I still do some teaching assistance.