Reynir Palsson's job as a UI/UX designer is to be one step ahead of the development team and predict client systems' future requirements. This kind of foresight comes from nearly 20 years of working for some of Iceland's premier companies. Today, he is telling the story of Men&Mice's flagship DDI product, Micetro, through information and digital design, spilling the details over a cup of the Monday coffee.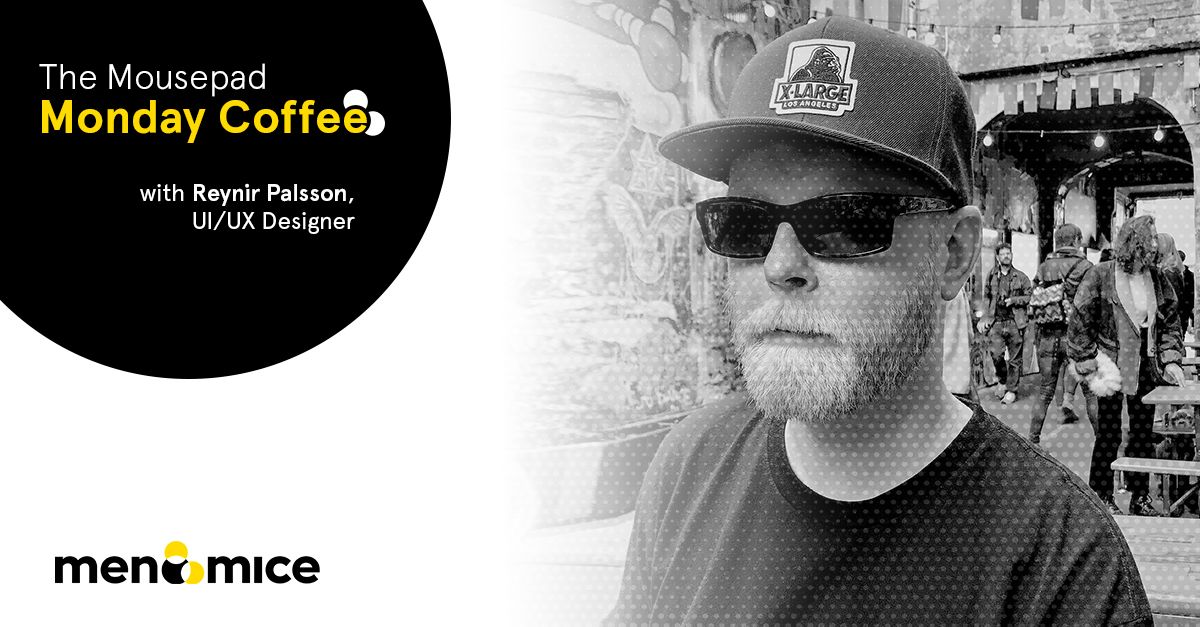 What do you do at Men&Mice and how long have you been working here?
I'm a UI/UX designer within the Product Management team and I've been working at Men&Mice since 2019. Before joining the company on a full-time basis, I was assisting with the initial development of the Men&Mice Suite web interface (now Micetro) with UI concepts back in 2017.
My primary role involves keeping UI/UX practices, patterns, and brand guidelines in sync with our product, working closely with a great team of people developers as well as our marketing department.
Describe Men&Mice in three words.
Ambitious. Honest. Innovative. We are an open book, and we are always honest with our clients. We tell them stuff like it is.
What is the most interesting part of what you do?
Firstly, it's working with complex situations and figuring them out. Secondly, doing this with talented and ambitious people. Thirdly, solving issues with global UI patterns in our system and, in some scenarios, designing new UI patterns based on specific client requests for additions suited to their environment.
For example, we could have three versions of a concept or an initial UI design draft. Ultimately, we all must sync as a team as well as with the client to make the design work most efficiently for the end-user while adhering to our guidelines and best practices.
At the end of the day, it's the best solution that we come up with as a team – UI/UX designer, developers, product managers – that should suit our clients' needs, advance the product and evolve our system even more.

Why do you do what you do?
My background in computer graphics and design goes back to 1993 (and a 2.400baud modem - yes, baud!) when getting into the "demo, warez and BBS scene" was fairly big back then, as some of you might recall.
A good friend of mine that was into some deep Assembler coding at the time got me interested into computer graphics, and I initially started drawing ASCii/ANSi with ACiDDraw for both well-known and obscure "warez/ascii groups" (Razor 1911, DoD, Fairlight, etc.) and later pixels in Deluxe Paint. Here's a fun fact: it's the software that LucasArts contributed to the development of and used in their computer games back in the day. So, my start was very low-fi and pixel-based, but it worked (no Photoshop). And now we have vectors, SVG and even PNG instead of GIF (for those that know!)
I've always had an interest in "form and function", so I quit school and began working full time on high-fidelity designs for more complex web pages: CSS was new then and opened up a lot of possibilities. I also began working on the UIs for ATMs, set-top boxes, kiosks and so on. Eventually, this design work on web interfaces eventually evolved into the UI/UX sector we know today.
What does the term 'sustainable networking' mean to you?
Creating an infrastructure and a solution that is flexible enough to tackle unknown future challenges for us and our clients going forward. The concept also ties into how we are working on our Micetro UI — taking things forward and being prepared for different scenarios/requirements that we need to address for our customers when and if needed and that we are able to do that efficiently.
Do you have a hobby or an interesting fact about you?
Once, I took part in a well-known Icelandic kids' television show alongside an orange monkey puppet. We went to Disneyland in Florida. I "literally" met Mickey and Minnie Mouse!
When not using a mouse (sic) and a keyboard, I like to do some biking, fiddling with my car and playing online video games with old friends both here and abroad. This is our way of catching up. I also enjoy being with good friends and family, and occasionally, I put some 12" on the Technics SL-1200 turntable and have a spin with the ones and twos.


Learn more about Micetro: https://menandmice.com/products/micetro