Why is Simplifying Operations so Important for IT Teams?
No matter where IT departments are in their journey to hybrid or multicloud, simplification is key. Simplification isn't just for IT teams considering a move to multicloud, though. Even in environments with just one or two on-premises locations, DDI can be complex to manage if you're using native Microsoft tools, BIND tools, spreadsheets for IPAM, or a mix of all of the above.
Networks have long been considered a point of fragility in people's infrastructure, that's why people are always blaming it for latency or downtime. Simplifying network operations, especially DNS and DHCP operations - the bedrocks of networking protocols, isn't just about making engineers' lives easier. There's a deeper reason to simplify operations. The more you simplify, the more you reduce mistakes and make networks more resilient than technology has allowed in the past.
How Do You Do it?
There are really only a few ways to simplify when you're considering a multicloud infrastructure, through abstraction and automation. I want to concentrate on Abstraction today, but we'll cover Automation in a future blog.
Abstraction
Abstraction allows network operators to use an overlay solution as their central point of management and visibility, and in some cases allows the operator to manage several different underlying services from different vendors.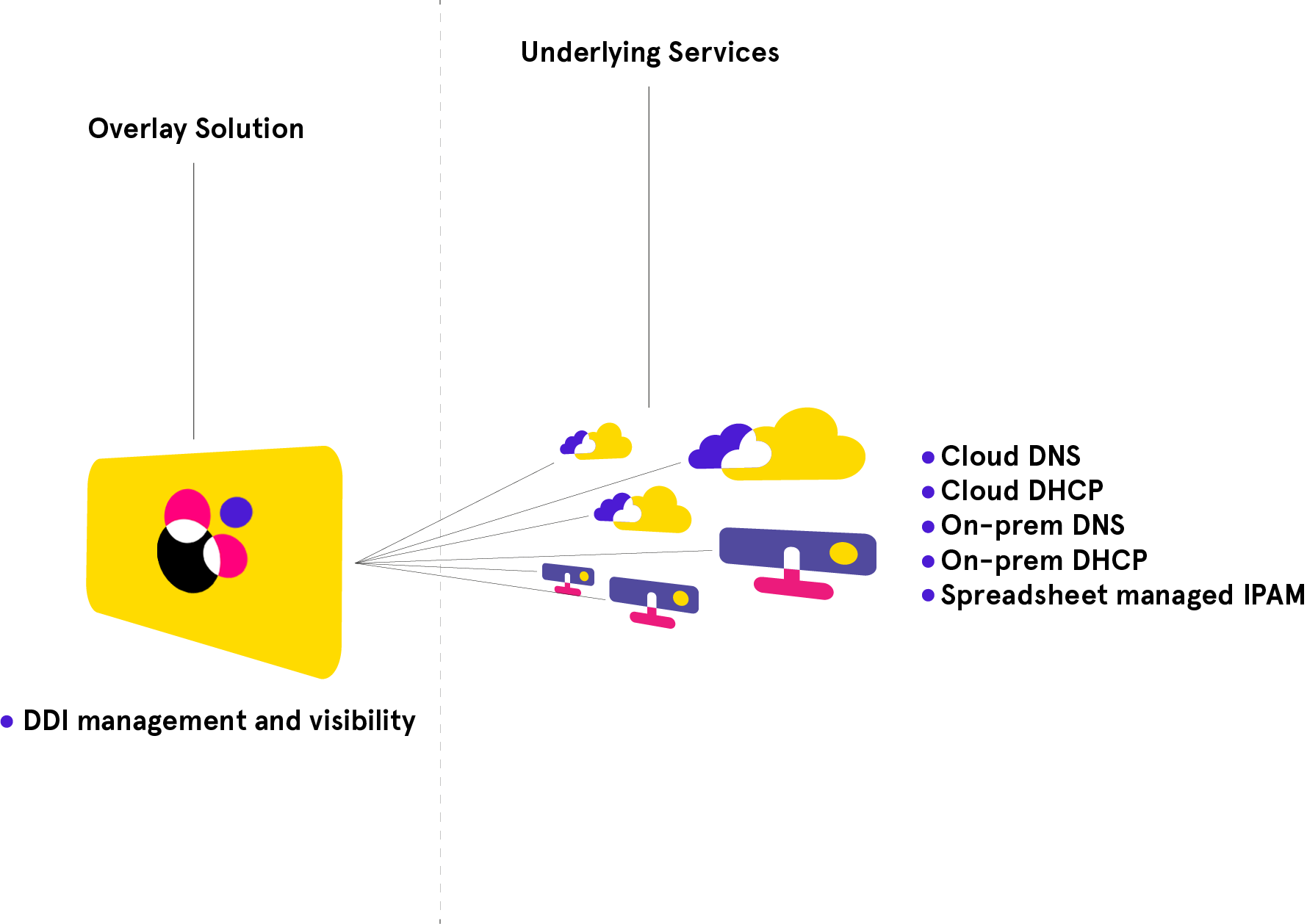 Centralized DNS, DHCP, and IPAM
Even if you're only working with one site, on-premises, and using Microsoft and/or BIND to manage your internal and external DNS, DHCP, and IPAM, you're likely having to go to several places to manage this. There's a lack of visibility and context for your entire network management system. When IT departments start deploying multiple sites and public cloud instances, this becomes even more complex as you start using the DDI services native to that environment. With an abstraction layer you can continue to use the underlying services to dole out IPs and handle DNS, but you manage it from that overlay solution. Thereby giving you a central point of visibility, management, and analytics as well as a central API.
Another point for centralization is the consideration of both IPv4 and IPv6 (as well as DHCPv4 and DHCPv6). Being able to manage both versions, as well as having visibility, is only going to give engineers and architects better context in which to troubleshoot and improve their networks.
Migration
You think of migration as simply happening only when you move workloads to other places, for example from on-premises to the cloud. However, migration is actually a large part of a network engineer's job. The same types of migration considerations happen when refreshing any part of the network, moving to new protocols like DHCPv6, or building redundancy and disaster recovery run books. These are all exercises in migration. By using a software overlay solution, you can avoid some of the pain points that usually come along with a migration. As underlay solutions change, for any reason, the overlay solution has the up-to-date data that can be easily exported to the new solution. Usually these will be done in a side-by-side migration, so when it comes time to switch over, there may only be a small window of possible disruption, if any at all.
Micetro – A DDI Overlay Solution
Micetro, as an overlay solution, gives you centralized management and visibility of DNS, DHCP, and IP Address Management on-premises and in the cloud. It'll work with your current and future native DDI services to ensure a non-disruptive implementation that gets rid of the need to rip-and-replace every time your requirements change.
Curious about how Micetro can help you manage all your current DDI underlay solutions? Sign up for a Live Demo at https://menandmice.com/live-demo