Worried about DNS going down? You're in good company. xDNS gives you the multi-vendor DNS redundancy you need for uptime. PRTG gives you the monitoring capabilities.
This week I watched a joint live session put on by Paessler and Men&Mice as part of Paessler's larger event called Extend the Capabilities of Your Resources - Paessler Alliances Event. You can find more information about the event here. The session was called:
MEN&MICE | Keeping the lights on and other mission critical services with Micetro and xDNS
"There's no such thing as 100% uptime from a single service provider. Traditionally, though, managing more than one DNS service has proven to be operationally impossible. That's why Micetro and PRTG have partnered to make multi-vendor DNS redundancy not only possible, but simple to achieve. Join us to find out how creating manageable HA profiles along with proactive monitoring will give you the uptime and performance experience your customers have come to expect."
Men&Mice and Paessler announced a technical partnership alliance in late 2021. This session, though, narrowed in on PRTG monitoring xDNS redundancy configured in Micetro. Micetro offers quite a bit of redundancy because we know if DNS goes down, everything goes down.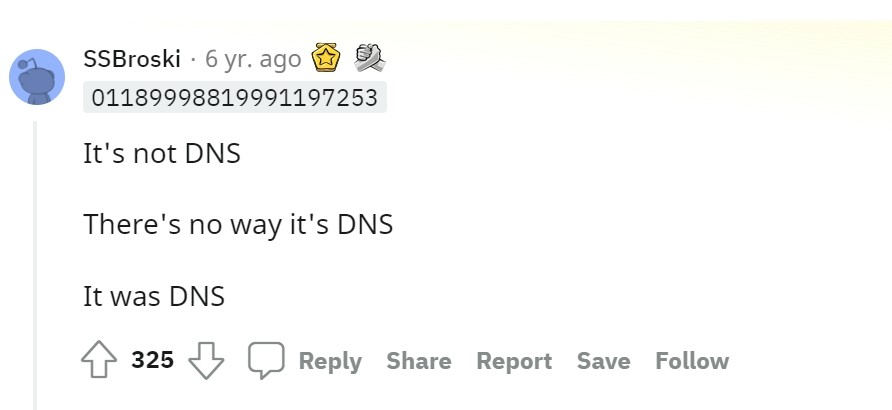 In 2016, after Dyn had a large outage, the folks at Men&Mice wanted to figure out the best way to offer our customers a way to mitigate these outages. There are several ways which Micetro offers high availability and redundancy.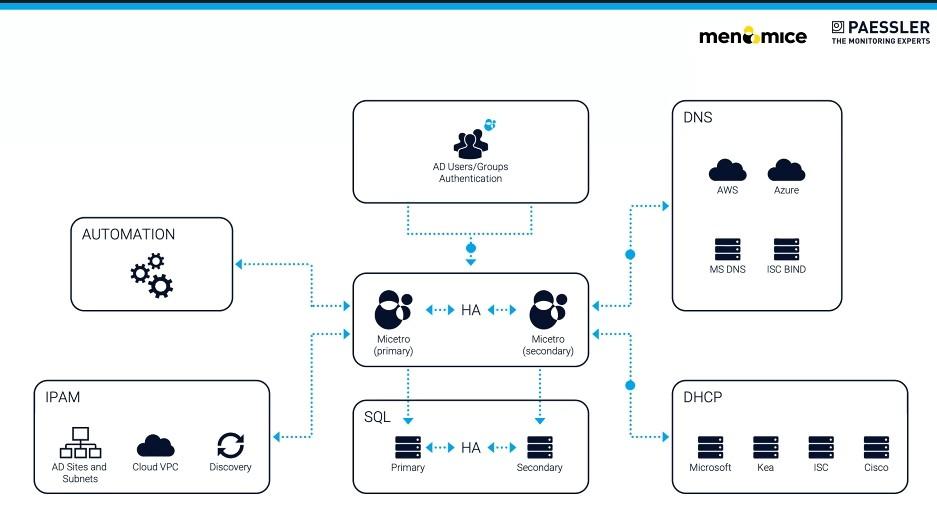 High Availability for Micetro Central
Micetro Central is the brains of Micetro. If Central goes down, your DDI services will continue to run, but the ability to modify or create won't be available. As Micetro has become a critical element in the processes of our users, especially those counting on automation and self-service, the availability of Micetro has become very important. Of course, you may also build in high availability into your database services which support Micetro as well.
xDNS Redundancy
HA for Micetro Central and xDNS both offer different levels of redundancy but are very different capabilities. Where many DDI solutions offer HA, xDNS, or multi-vendor DNS redundancy, is unique to Micetro. xDNS allows users to build high availability profiles so that modifications within a DNS zone are replicated to a second or multiple providers therefore allowing our users to avoid putting all their eggs in what basket. This may be set up for all your zones or only for critical zones that need to have 100% uptime.
Replicating and maintaining multiple DNS providers for the same zones is next to impossible for DNS engineers to do with native tools. Using Micetro, this is all done automatically once one service is degraded. Also, and important factor, is the ability to then bring a service back online and feel confident about the information that is synced once the xDNS profile is no longer degraded.
xDNS and PRTG
In the session Sigfús Magnússon, CTO at Men&Mice, and Simon Bell, from Paessler, showed us what the xDNS REST sensors looked like in the new PRTG web UI.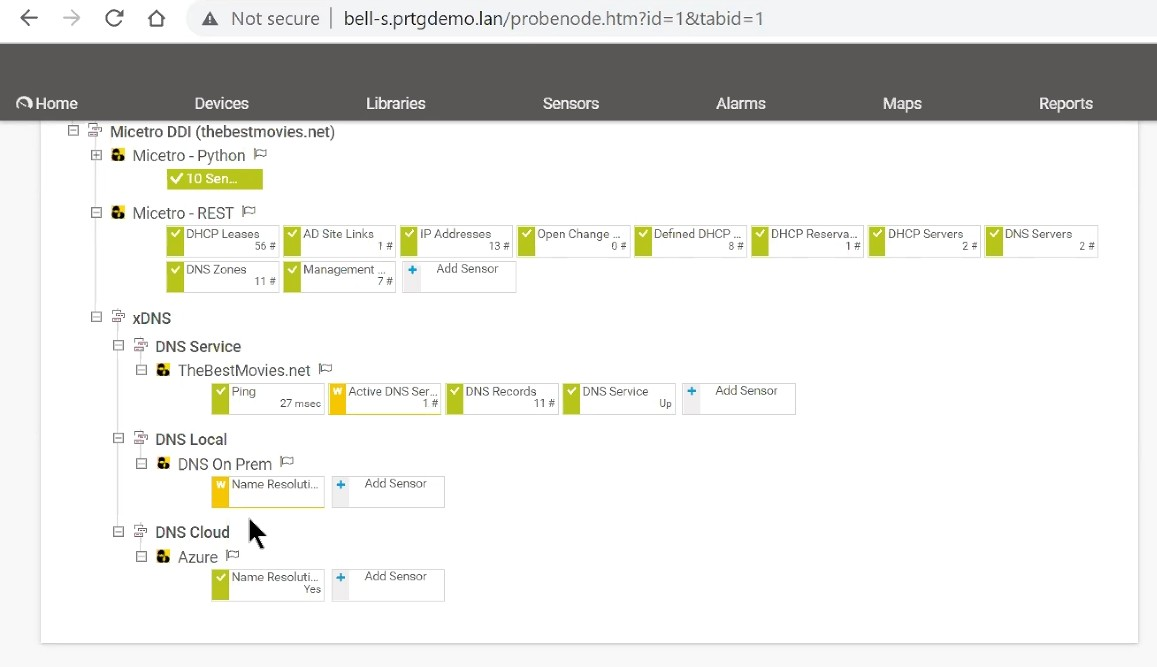 As you can see in the image above, the xDNS sensors in PRTG are making REST calls to Micetro to see if services are running as they should be. In the image, the DNS Local service seems to be down or degraded (as shown by the color yellow). However, DNS Cloud is still up. Therefore, DNS is still working for the user.
During this type of outage, where one of the services is down, changes may still be made to the DNS zone. Once the DNS Local service, in this case, is back up, Micetro will sync the changes using a conflict policy set by the admin.
Once the service comes back up, PRTG will reflect that by changing all of the services back to green.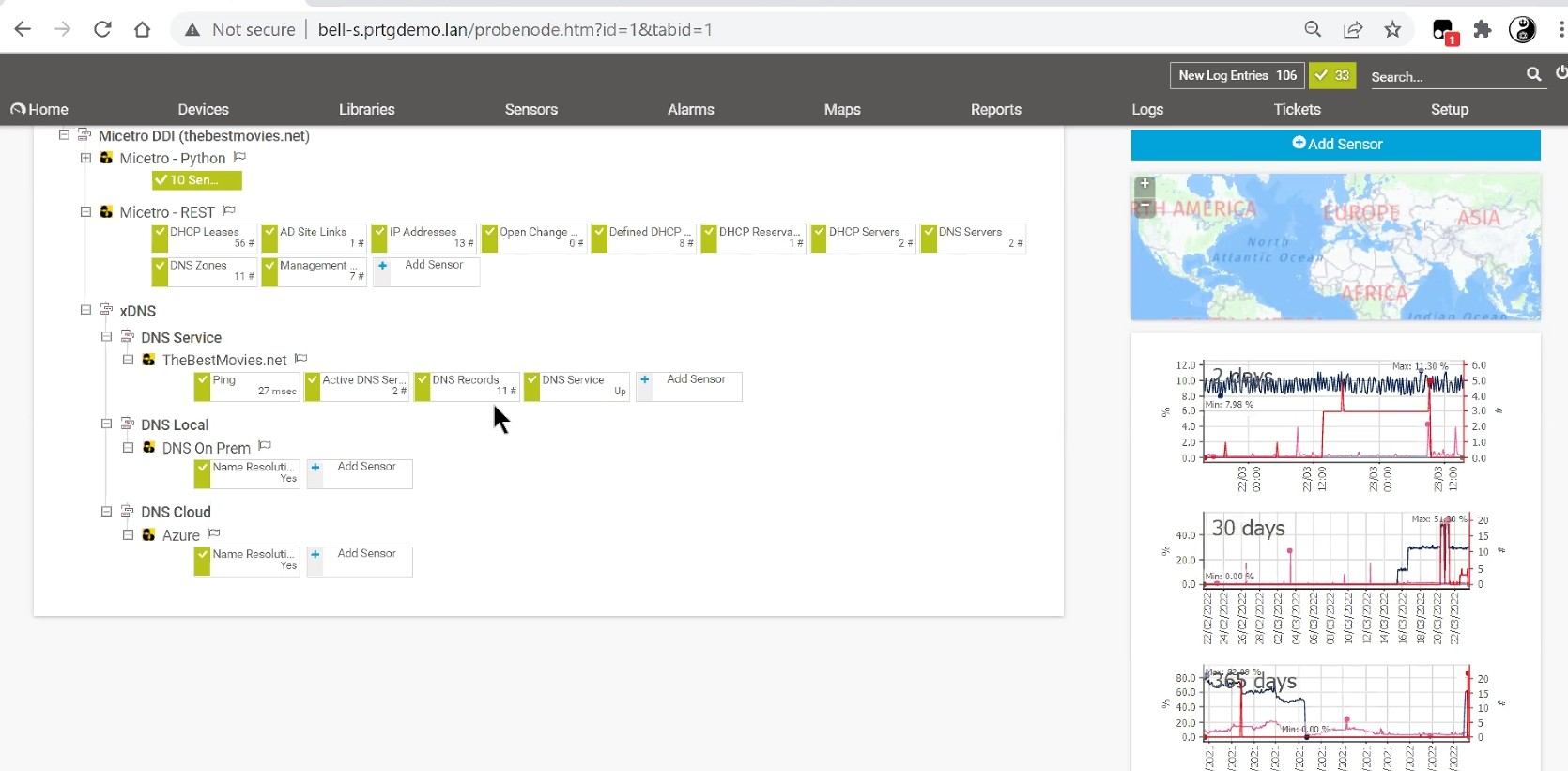 Are You Looking for DNS Redundancy?
There was a question during the session on whether Micetro was ready for Managed Service Providers, and the answer is yes! This is a perfect capability for MSPs. However, xDNS is really meant for anyone that might have a business model reliant on your services being available to your customers over a public network. If you could stand to lose revenue because of a DNS outage, you can find more information here or ask for a personalized live demo any time.