We're so happy to announce Micetro version 10.5. Before we get to the details, though, we also want to introduce you to our new Product Vision for Micetro.
Micetro Product Vision: The most intuitive orchestration tool for DNS, DHCP, and IPAM that adapts with you and your evolving network.
We know that your networks are changing, but we also know that this must happen at a sustainable pace for your teams and budget. That's why an overlay approach, whether we're talking about DDI management or IT solution management in general, is the best way forward as new architectures are planned. You can't keep getting stuck in legacy networks because it's too difficult to modernize your DDI environment. That's where closed and proprietary systems will leave you.
Our updated product vision acts as Micetro's true North, and every new capability or improvement will correspond with this vision. In alignment with this, we are very excited to announce Micetro 10.5, which brings more intuitive workflows, proactive and preventative mitigation, as well as more integrations with DNS partners.
Brand New Capabilities
Akamai AuthServe Integration: New service agent which allows users to easily integrate with their on-premises AuthServe DNS server.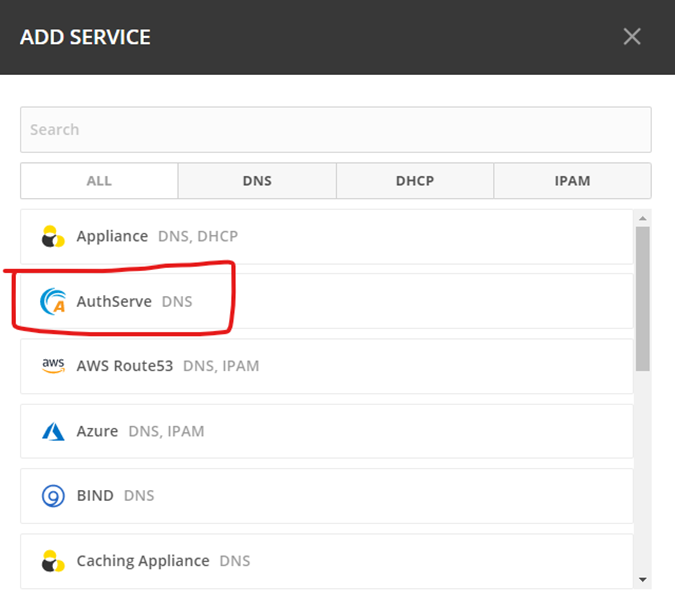 This new agent sets the foundation for onboarding new DNS/DHCP integrations quickly with Micetro, as in a couple of weeks. Along with this integration is the ability, as with other DNS servers, to use only one agent to act as a proxy to connect to multiple AuthServe DNS servers.
As your architectures change from traditional to spine/leaf, from on-premises to multicloud, and from SD-WAN to SASE, Micetro will be able to onboard the services that work with you and your environment.
Support for Kea Client Classes: Kea client classes allow groups of different clients to receive common options and offer tools for control over network flow. This automatic configuration simplifies how you manage our network and prevents configuration sprawl.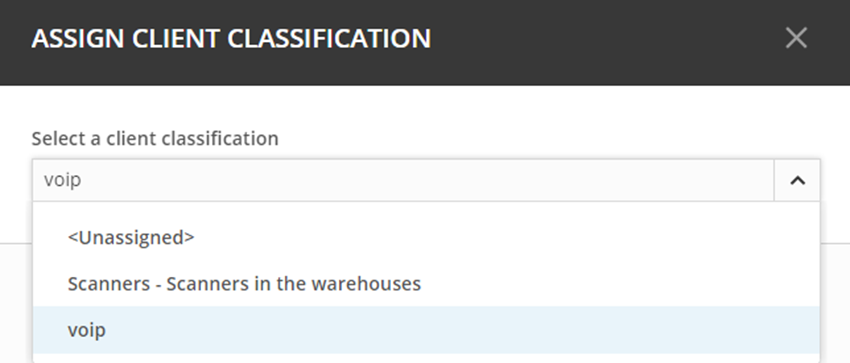 Consistency is maybe the most important practice to introduce to your network as more and more is expected out of IT, but you're working with the same size teams and the same resources you've always had. If you can introduce consistency to your network via automation, uptime stays up and troubleshooting multiple sites and services becomes easier. Kea client classification allows you to introduce automation via the UI, with quick, intuitive workflows.
A few possible use cases could include:
Assigning a bootp server to warehouse scanners from the same vendor
Assigning the correct NTP services to VMware servers
Configuring VOIP services on collaboration devices
Setting relay agent configuration according to the location of the devices
For more information, check out this on-demand webinar.
https://www.menandmice.com/isc-dhcp-eol-kea-dchp-integration-with-micetro-video
New Improvements
Keeping in mind that every new improvement is meant to make our user's lives easier by being more intuitive, every improvement listed below has not only been moved over from the thick client (or management console) to the web UI but also reimagined to make a better experience for daily users. At this point, we're seeing 99% feature parity between the old management console and the web UI, with even more features in the web UI.
Service Management Revamped: Going beyond a simple name change from "Server Management" to "Service Management" the workflows for adding new DNS and DHCP services have been simplified and optimized for the user. An overall revamp of the UI has also been included in this release to optimize the user experience.
Zone Creation Workflow: This workflow has been optimized for the user, making zone creation more consistent and intuitive. Users can more easily add Microsoft and AuthServe zone options, and identification information, and prevent configuration sprawl.
This includes giving available options based on vendor as well as putting the ability to populate custom properties right in the zone creation workflow. This is key to creating a single source of truth for use with multicloud asset management. If you're interested in learning more about multicloud asset management, check out this on-demand webinar.
Global Object History: Now you can view global history in one place. Improvements have been added to the web UI to make more data available, such as whether a change came from the web UI or API. The ability for users to view their own object history has been added as well.
Event Hooks: We've renamed Scheduled Scripts to Scheduled Events, and External Scripts to Change Events. These events along with Subnet Monitoring can now be found under the Admin tab in the web UI
Move Objects Between Address Spaces: Services and ranges may be moved between Address Spaces when there is more than one Address Space defined.  IPs may not be moved between Spaces)
DHCP Improvements
Custom DHCP Options: Custom DHCP options can now be defined in the web UI for individual Microsoft, Kea, and ISC services.
Windows DHCP Failover Support: Windows DHCP server-to-server failover relationships can now be managed with the web UI.
Manage DHCP Server Properties: Manage DHCP service properties from the web UI
System Settings: Global system settings can now be managed in the web UI.
Micetro Update Management: Be notified when new updates are available and run these updates directly from the web UI.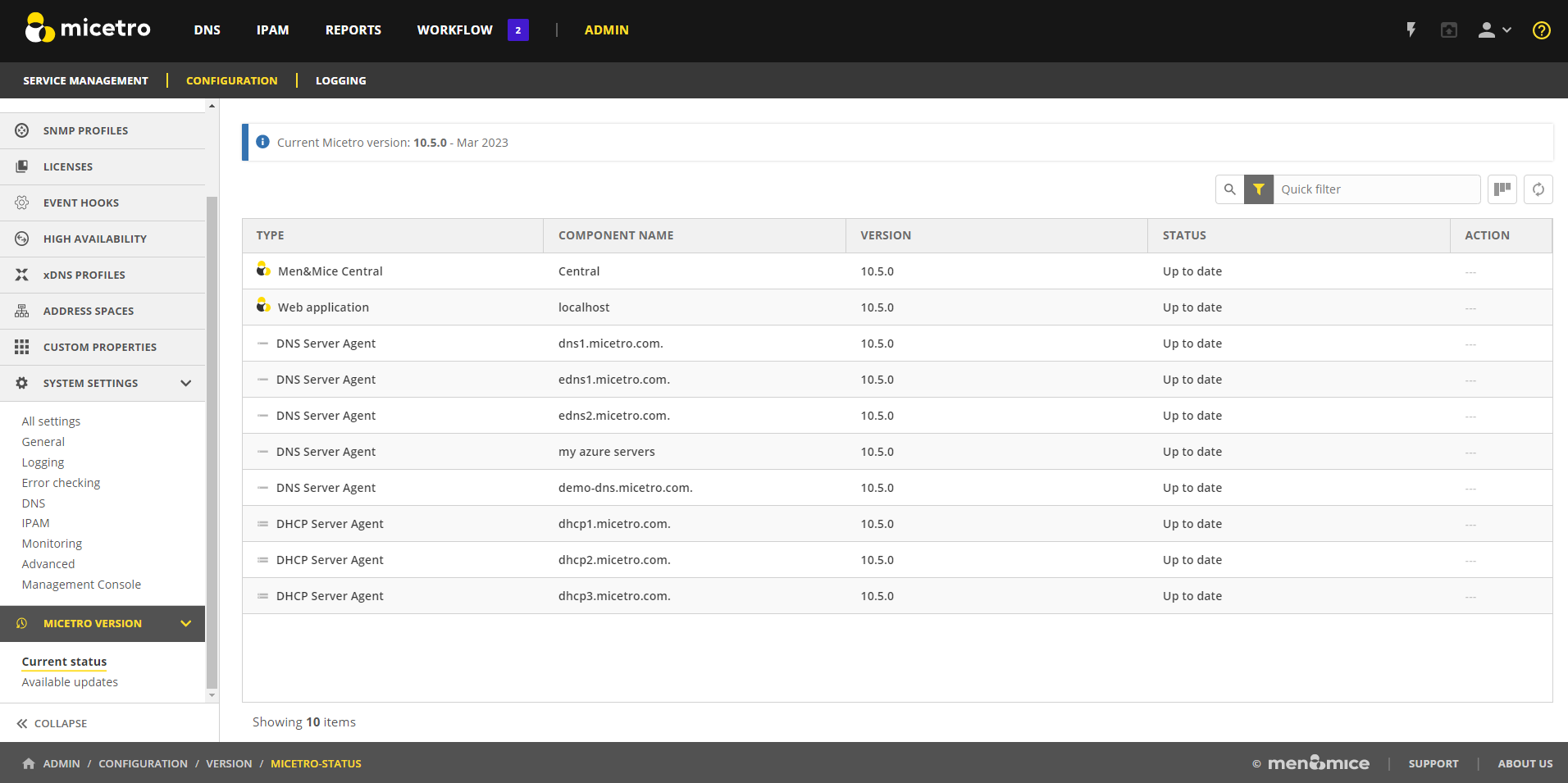 Discover the exciting new features and capabilities of version 10.5 by watching our on-demand video demonstration below.