Reports management is critical in any enterprise-level organization. Knowing who did what, when, and why — even, and especially, after months or years — is invaluable for regulatory requirements, transparency, and a clear line of responsibility. Having a good handle on reports also helps managers to identify notable efficiencies or worrying weaknesses in existing processes.
The benefits of reliable and usable reporting affect the entire business, from IT to C-Suite. Decision makers on all levels need to track available assets and spot workload trends that affect them; clear and transparent reporting can expose security vulnerabilities or reveal human error before they cascade into catastrophe; and business decisions benefit from comprehensive data deepening the understanding of what changes are needed.
Reporting has always had a presence within the Men&Mice Suite, but from version 9.2 a new advanced Reporting Module ups the reports management ante several levels.
The foundation
The Men&Mice Suite has been known for its robust handling of object history for all DNS, DHCP, and IP data since the very beginning.
Changes made to an object (DNS record, DHCP scope, IP address, you name it) managed through the Men&Mice Suite are logged in the system. Hand
ling these objects in the Suite's management web application, users can view the history of changes individually per object.
Having the data, however, is just the beginning. To make these foundations satisfy the need for high-frequency, and often automated, reporting, the Men&Mice Suite Reporting Module streamlines the way users can mine this data, offering greater reports management and control.
The traffic control
The new Men&Mice Suite Reporting Module enables users and administrators to view, collect and utilize data within the Men&Mice Suite and/or export it for download. Users can:
create and save new report definitions
schedule reports to be generated
run reports
download reports in various formats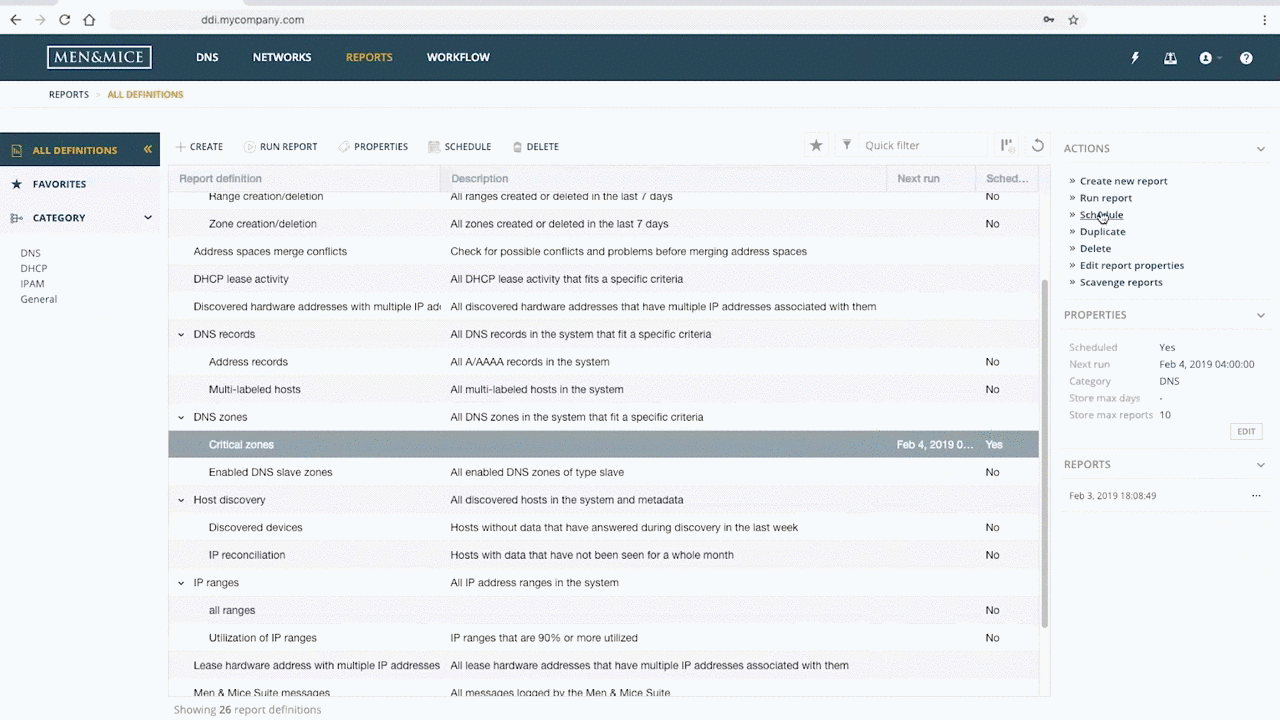 The Reporting Module offers a variety of report templates, from audit trails to a list of DNS zones filtered by criticality, as well as a straightforward process for customization. Tailor-made reports can be generated by correlating data and templates in just a few steps. Users can also create reporting definitions and schedule them to run reports on a daily, weekly, or custom schedule.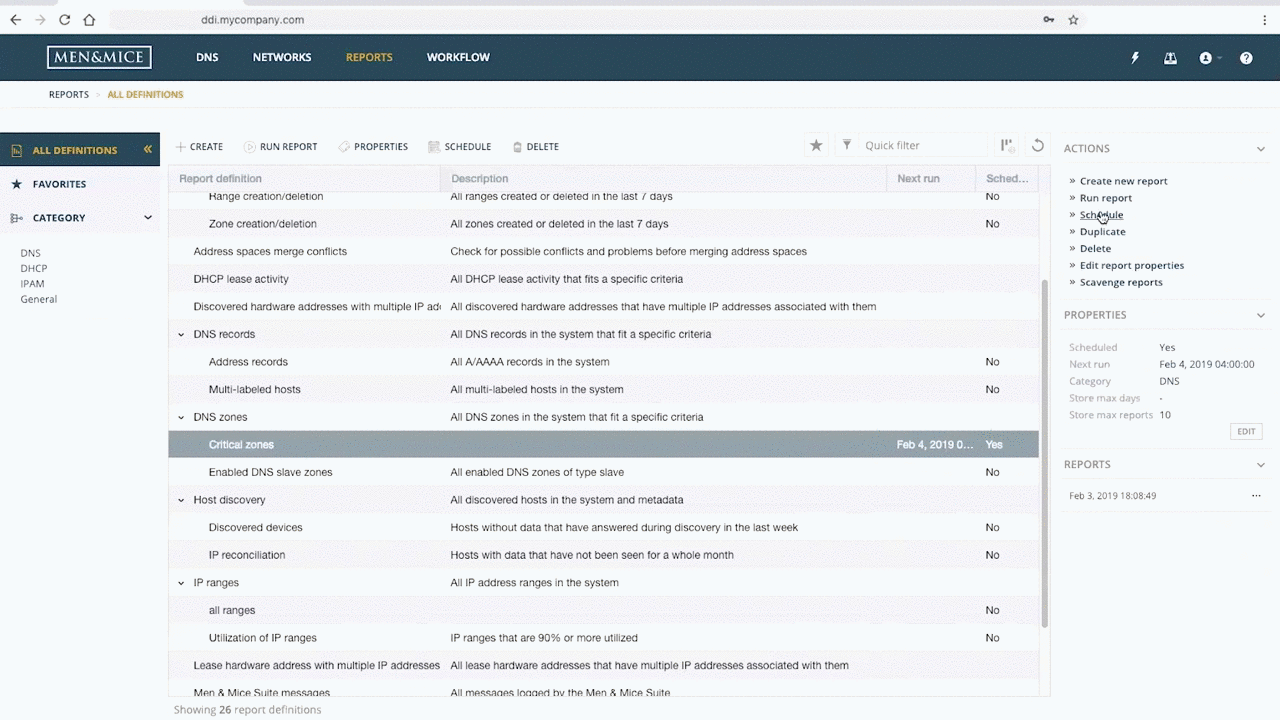 The Reporting Module is a central tool for businesses to maintain transparency, clear communications, and scalability. Apart from  generating reports and scheduling them to run on a regular basis, the Reporting Module provides a variety of other use cases such as:
during internal reorganization, project leaders can quickly generate reports to list available assets;
objects can be organized into a report to locate vulnerabilities and prevent security incidents;
business expansion is aided through defining reports on resources reaching capability limits, thus helping to make smarter business decisions
The result
The Reporting Module especially shines in cases where on-prem and cloud network resources are mixed and scaled across multiple locations and platforms. With the Reporting Module, Men&Mice Suite  provides streamlined reports management, giving you an enhanced overview of your network and system processes, and taking you one step closer to unifying the way you see, and control, your hybrid and multicloud network resources.
Take a look at the following video to see the Reporting Module in action:
Try the Men&Mice Suite 9.2
The Men&Mice Suite helps to make complex enterprise IP infrastructure management, across hybrid and multicloud environments, as elegantly simple and quietly robust as customer-grade technology — but on an enterprise-grade scale.
The new Reporting Module is an important improvement in streamlining network management in the enterprise. Building on the already robust data facilities of the Men&Mice Suite, it provides valuable data and insights for making better decisions.
You can try version 9.2 of the Men&Mice Suite by clicking the button below or grab it directly from the Azure Marketplace. The new Reporting Module is part of the Men&Mice Suite and can be licensed as an add-on to versions of Men&Mice Suite v9.2 or beyond.